A partir del 6 de agosto de 2021, independientemente del estado de vacunación, se requiere el uso de mascarillas para todos los empleados del tribunal bajo la supervisión y autoridad del Juez Presidente, o para toda persona que ingrese a cualquier sala o instalación del tribunal bajo la supervisión y autoridad del Juez Presidente, incluyendo todos los Tribunales del Distrito, la oficina de Administración del Tribunal, el Edificio de Relaciones Domésticas, el Centro de Justicia de Menores y las oficinas de Libertad Condicional para Adultos y Servicios Previos al Juicio, de conformidad con la Orden Administrativa 2021-16.
No se exigirá el uso de mascarillas a las personas que no puedan usarlas debido a una condición médica.
Asimismo, independientemente del estado de vacunación, las personas a las que cualquier médico, hospital o agencia de salud les haya indicado que se pongan en cuarentena, se aíslen o se auto monitoreen en su casa por el coronavirus, o que hayan sido diagnosticadas con COVID-19 o tengan síntomas similares a los de la gripe, tienen prohibido ingresar a cualquier sala o instalación judicial bajo la supervisión y autoridad del Juez Presidente.
Hay más información disponible en nuestra página web
Órdenes Judiciales de Emergencia e Información sobre COVID-19.
History of the Courthouse
Lo sentimos, pero la traducción al español de esta página no está disponible.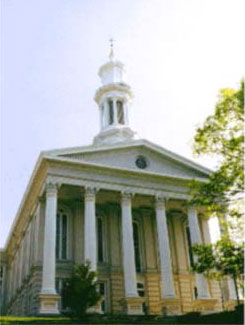 On February 17, 1764, the Assembly initiated an act authorizing trustees to commence construction of the first Northampton County Courthouse which was opened in 1766. Mr. George Taylor, one of the signers of the Declaration of Independence, was among the trustees appointed to have charge of Courthouse construction. The complete two story limestone structure was fashioned after the plan of Carpenters Hall in Philadelphia and was erected in the center of Public Square in Easton. Two years later, a bell cast by the Moravians was placed on the cupola of the new courthouse, enabling notification of major events in the shire town of Easton.
Nearly a century later and after the courthouse had experienced a number of historical events, which included being used as a barracks by Revolutionary troops, a group of citizens petitioned for a new County Courthouse at a different location. On August 23, 1860, the County Commissioners decided to accept land offered at a price of $1.00 that was located several blocks west of the original facility. A new brick structure was later built on a steep hill at a cost of $53,000. The first term of court was held in the new facility on June 18, 1861.
Since then, two additional wings were constructed to accommodate the growth of Northampton County and satisfy the judicial needs of the expanded population.
In 1978, the county moved some of its offices to the newly constructed administration building which annexed the existing courthouse. Later, the Clerk of Criminal Courts and the Clerk of Civil Courts transferred their expanded offices to the new facility, improving the efficiency of the entire judicial and governmental process.
In 2004 the Court moved forward with construction of a sizable addition that was annexed to the 1978 facility. Acknowledging the population growth of Northampton County and the various safety and security issues that were inherent in the 1861 facility, County Council allocated $43,000,000 to construct 7 new courtrooms, judicial offices, and renovate may areas of the historical courthouse. Today the facility is able to meet the expanding needs of the county and provides an environment that is effective, secure, and safe for all.